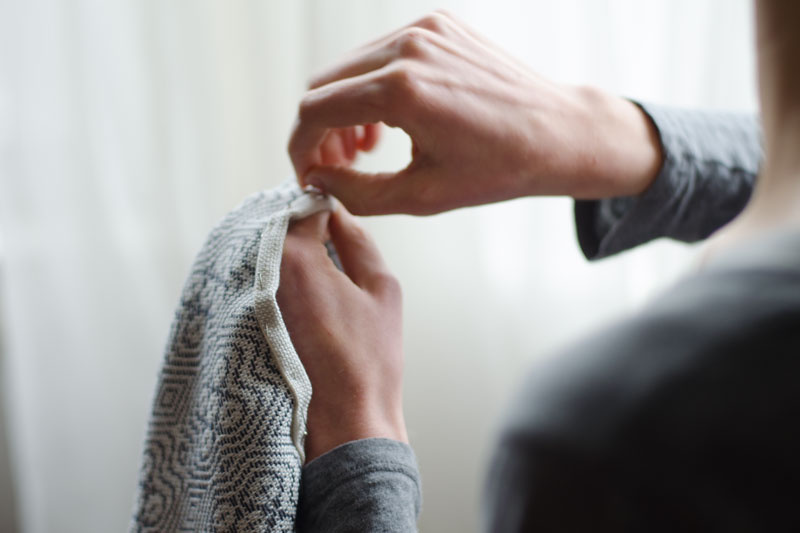 Amanda Rataj is an artist and arts educator based in Hamilton, Ontario with a BFA from the Ontario College of Art and Design University. Her craft practice is based in an exploration of materiality, vernacular textiles, and the ways in which we activate our surroundings and ideas of self through craft objects.
---
Recent exhibitions include Craft '19, Craft Ontario Gallery (2019), Crosscurrents: Canada in the Making, The Textile Museum of Canada (2018/19), and Nothing is Newer Than Tradition, the Art Gallery of Burlington (2017).
Recent lectures include Conscious Consumption: Focus on Local Linen at the Textile Museum of Canada (2018), the Ontario Handweavers and Spinners Central Regional Seminar (2018), Ideas Forum: Living Well, Toronto (2017).
---
I teach private and group weaving lessons on a range of topics, from beginner rigid heddle to floor loom weaving. If you'd like to learn more about your loom and how to create textiles, please be in touch. I also run regular workshops on weaving and knitwear repair at Handknit Yarn Studio in Hamilton, ON.
In 2019 I started to release some of my textile design work as downloadable PDF patterns – you can purchase them through my web shop. I've also been fortunate to work with GIST Yarn & Fiber to develop a number of free weaving patterns using their yarn, the Tidal Towels, and Squarish Rug. I'm also writing a monthly guest post on their blog until December 2020.